WooCommerce Disability VAT Exemption
WooCommerce Disability VAT Exemption

Exempt customers with disability or charities from paying VAT per product by filling out a form available at checkout from within your WooCommerce store.
Install our plugin today and offer VAT exemption on eligible products now.

Exempting Charities or Customers with Disability from Paying VAT is Made Easy

The UK, European Union and many other countries around the world offer VAT relief to customers with disability or charities as long as they declare on the point of sale. Same goes for online businesses. Based on that we have curated a plugin for WooCommerce store owners who are selling products and providing relief to such customers.
Disability VAT exemption for WooCommerce is perfect for online stores selling products to customers with disabilities or charities that are exempt from VAT. This will also allow you to individually enable eligible products for VAT relief.  These enabled products provide customers a declaration form on checkout to get VAT exemption that will be attached to their order for record.  


Set fields of VAT exemption form to optional or required.
Option to set a custom message of your own above disability information fields on the checkout for your customers.  

Configure separate forms for customers with disability and charities

Add advance fields to your disability VAT exemption declaration form as per the rules in your country of operation. 

You can record the IP address of the buyer claiming VAT exemption and print it on the order-related email.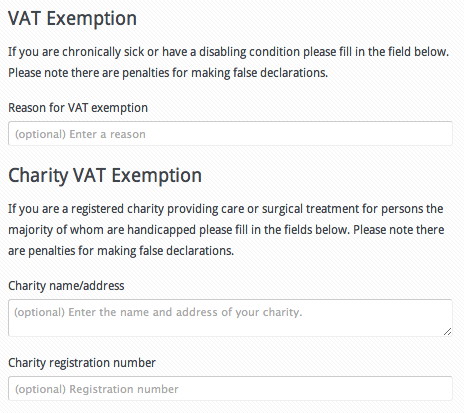 We are confident in WooCommerce Disability VAT Exemption plugin!
That's why we offer 30-day money-back guarantee with one year of updates and support!